The West Elgin Community Health Centre is part of a strong network of community health centres (CHCs) across the province. CHCs are committed to building healthy communities and employ a wide variety of health and social service disciplines. Our Centre has been serving our communities for nearly 30 years! We are committed to kind, accessible and inclusive person-centred and community-centred services where people achieve and maintain the highest possible level of well-being.
Job Postings
PSW and DSWs - Casual Employment Opportunities - JOIN THE ASSISTED LIVING TEAM!
Don't see a current job posting? We encourage you to submit your resume and cover letter. Human Resources can be reached at dauterhoff@wechc.on.ca or by telephone at 519-768-1715, Ext. 2204.
The Centre is committed to a respectful, diverse, accessible and inclusive work environment. We encourage and welcome applications from persons with disabilities and a broad range of cultural, ethnic, racial and gender identities and expression. Reasonable accommodation will be provided in all phases of the recruitment process.
Did you Know?
In 2021 the Centre received the Elgin Business Resource Centre's Creating Healthy Workplaces award! We are very proud of our incredible staff for their amazing dedication and strength as this recognition was received during the Covid-19 pandemic. Our team demonstrates resiliency and flexibility pivoting services to meet the changing needs of our clients and our communities. And our staff are exceptionally compassionate and supportive of each other!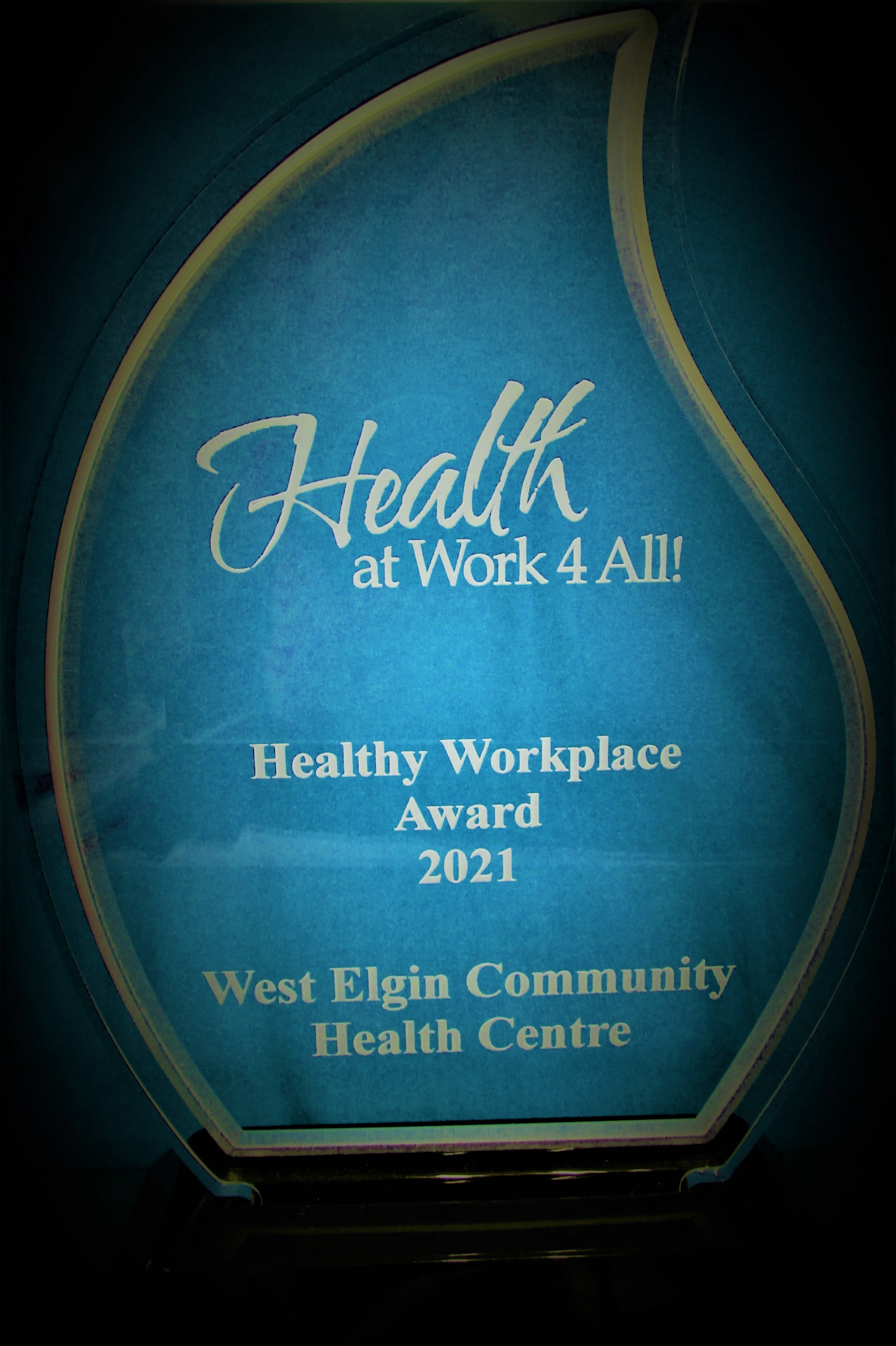 Support Workers - Our Assisted Living Program
Thinking about support work at the Centre? Want to know what its like to work in our Assisted Living Program? Hear from our amazing staff:
"Being a PSW for the Centre's Assisted Living Program is rewarding and fun! We have a great team, supportive leadership and appreciative clients. Every member is valued! I can only hope this program exists when I am in need. Those involved are just wonderful!" MA
"I love working for the West Elgin Community Health Centre! Everyone is very kind and helpful and I feel very supported by my co-workers and by management. The clients are very respectful and feel like family because I've gotten to know all of them so well" DC
I love working as part of the Assisted Living Team because my co-workers are some of the most compassionate and caring people I have every met. Our work is intimate and there can be delicate lines to walk. We know that even though we do our best, perfection is not required. This allows us the freedom to build trust, rapport and respect not only with clients but with each other" A
"I like working for the Centre because its close to home, the staff and management are very professional and friendly. When you are at work its always a team effort to get the client's bookings done and they are happy with what you do" A
"When I first considered the Centre it was because it was closer to home. I was mentally drained from my first employer. Little did I know that the Centre and the co-workers would make me feel like family and all the negativity just gets washed away when I'm there. I like how the job and environment are different from a long-term care home. Being a PSW is so important as it gives so many people the chance to stay home and have independence. If I could only work at one place full-time, it definately would be the Centre" MM